A Brief Overview
In 1939, Dr. Cornelius Van Til gave a series of lectures at Calvary Pres. in Willow Grove, regarding the responsibility of Christian parents to train their children apart from the state schools. He was instrumental in leading a small group of families to start the Christian School Society of Willow Grove. 
In September 1943, the first classes of the Willow Grove Christian Day School began with 1 teacher and 17 students in three elementary classes. The school met in the basement of Calvary Presbyterian Church in Willow Grove. The school grew to K – 8 by 1955.
In 1956 the Philadelphia-Montgomery Christian High School began with 3 teachers and 34 ninth and tenth graders. The students met at the First Reformed Church of Germantown until the newly acquired Wyncote Elementary building was fixed up in preparation for grades 9-12.
In 1964–65, the elementary and high schools merged, becoming Philadelphia-Montgomery Christian Academy.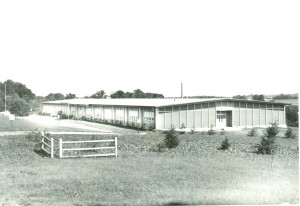 In 1969 a new school facility, to house grades K–12, was built on a 20-acre site in nearby Dresher.
In 1979 the former Hillcrest Junior High School was purchased to house the middle and high schools (6–12).
In 2006–07, the elementary, middle and high schools merged on the Hillcrest campus.
Phil-Mont is: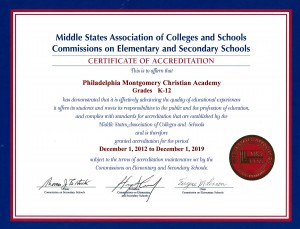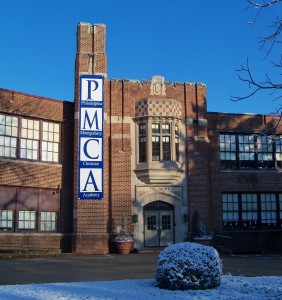 Additional Notes
Phil-Mont's school mascot is the the Falcon
The school colors are blue and white: although this has not always been the case.
Prior to 1969 the school colors were Garnet & Gold.
In 1969 "a teacher" (name is intentionally omitted to protect the reputation) evidently determined that Garnet & Gold posed some challenges for the school either in securing the combinations in uniforms or not being perceived as good representation.
That teacher "unilaterally" determined a change was in order and declared the school colors changed to Red & White.
In what might be referred to the "Falcon Rebellion of '69" (labelled by current writer via literary license) some students did not think such an important decision should be made by a single person and led the charge petitioning for a more collaborative effort that included students.
The Principal at that time decided that sounded "fair" and consulted with the teacher who coalesced.
This movement led to some kind of an election of a range of color combinations including:
Garnet & Gold
Red & White
Green & Gold
Blue & Gold
Blue & White
Blue & White was selected by strength of vote and 1970-71 is the 1st year that Blue & White were worn as uniform colors.
Blue & White has remained the official school colors up to the present day.