The By-Laws of Phil-Mont Christian Academy provide that the Academy's mission is "to provide excellent academic education from a consistent Christian world-and-life view for the children in Christian families." This mission is entrusted to a Board of Trustees. Each meeting of the Board of Trustees begins and ends with prayer, and includes a brief devotional prepared by one of the Trustees. Between meetings, business is conducted by the Executive Committee. Other Committees (e.g., Finance, Facilities, and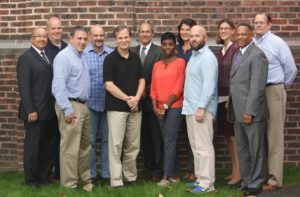 Fundraising) meet regularly and report to the full Board. Discussion of these reports, and any reports submitted by the Head of School or other administrators, is one of the main activities at the Board's meetings, and highlights of those reports will appear here from time to time. References to the Redesign Task Force and Redesign process refer to our efforts to make Phil-Mont a sustainable school, without compromising the quality of the educational program, while maintaining a balanced annual budget and holding fast to our core biblical values.
Meetings of the Board of Trustees often involve discussion and action related to personnel issues, confidential matters, and matters that are under consideration but not ripe for public dissemination. Being mindful of its obligations to be good stewards of Phil-Mont, the Board cannot make public postings about such matters. When appropriate, however, the Board will address them in letters to the Phil-Mont community or in Town Hall meetings.
Who are the Trustees?
Phil-Mont Bylaws
to contact the Board, email board@phil-mont.com
Board News (Current school year only, most recent news first):
Constituent Meetings
One or more Trustees will be available to meet with a parent, alumnus, or other constituent during the forty minutes immediately prior to the Board's regularly scheduled meetings. These meetings must be requested and scheduled forty-eight hours prior to the Board meeting, and are subject to Trustee availability. The request should state the subject that will be discussed and identify the speaker and his or her connection to Phil-Mont.
Each Constituent Meeting will last no more than ten minutes, and no more than three Constituents may schedule individual meetings prior to any one Board meeting.
Meeting Dates
Upcoming Board Retreat: October 20 & 21
September 2017
The Board is focusing on developing Strategic Plans for each committee as well as Ad-hoc committees in order to determine the direction the school should go in the next 3-5 years and to ensure the plans align with the mission and purpose of Phil-mont Christian Academy. Plans will be presented and discussed at the October Board Retreat. Other key areas of focus and updates include:
Amendments to the By-laws to reflect our current makeup were discussed and further amendments to be recommended at the Retreat.
The Board will be recruiting Trustee candidates to fill open positions on the Board
Planning for the 75th school Anniversary in 2018 will be getting underway later this year
Accepting the resignation of Trustee Christopher Wood and thanking him for his service
Appointment of Trustees Diane Olinger as Vice President and Stacey Parker-Johnson as Secretary