Welcome to Phil-Mont's Library
The Library, also known as the Van Til Library Media Center (VTLMC), is one of the central hubs of student academic activities. Mrs. Noonan keeps things interesting by promoting and teaching good research practices as well as proper techniques for citing sources. All Phil-Mont students interact with the library and Mrs. Noonan in some capacity during their educational time.

Mrs. Noonan teaches Library/Computer to students in grades K-5, introducing computer skills and encouraging students to read often. She also regularly recommends books to students based on their genre of preference and ability level. Middle school students usually come as a class to utilize the library resources, and our high school students are most often found here during study halls and lunches as they research and type papers for classes. The library has its own collection of laptops in addition to roving Chromebook carts.
Other types of events which take place in the library include:
Back-to-school parent coffee
Middle school Medieval Feast
7th grade Tea
Faculty meetings
Board meetings
Alumni class reunions
The library often hosts a few art pieces from current sculpture students, and is equipped with a sound system, an LCD projector and screen, and a working fireplace which is ignited for special occasions. A favorite "napping" spot for many students past and present is the full-sized window seat which tends to be all too comfortable on warm sunny days.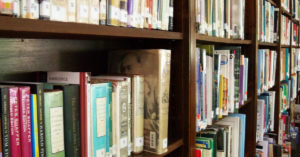 Naming the Library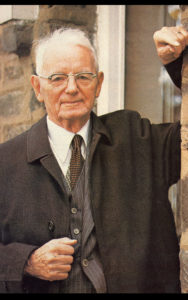 Phil-Mont's library is named after Cornelius Van Til, one of the founders of Westminster Theological Seminary, who in 1939 gave a series of lectures at Calvary Presbyterian Church of Willow Grove on the responsibility of Christian parents to train their own children apart from the state schools. He was instrumental in leading a small group of parents to take the steps necessary to begin a small school which would eventually be known as Philadelphia-Montgomery Christian Academy (taken from To God Be the Glory, copyright 2012, a history of Phil-Mont). Phil-Mont is proud to name our library after a man who played such a prominent role in the school's founding and in the furthering of God's kingdom.
Meet the Librarian
Mrs. Jennifer Noonan began duties as Phil-Mont's Library Media Specialist in September of 2012. She completed her M.Ed. in Library Science at Arcadia University in December 2011, and holds a B.S. in Elementary Education from Penn State University. Jennifer is married and has 4 children and she currently attends Crossway Community Church.
As librarian, Mrs. Noonan works with all grade levels, including teaching basic computer skills to elementary students and showing them Christian themes in non-Christian children's literature. Be sure to stop by the Van Til Library Media Center and say "Hello".
---
Current Student Resources
Use the PMCA-LMC Wiki as your source for excellent pathfinders and resources for all your papers and projects.
Internet Searching Helps
Researching Worksheets
Citations and Parenthetical/In-Text Documentation