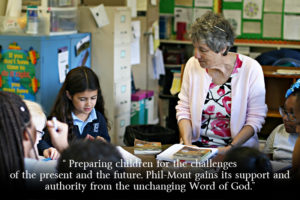 We are excited that you have considered Phil-Mont Christian Academy for the education needs of your family.
Below is a link to our online application. There is a fee of $100 (per student applicant) which helps cover the cost of processing and testing. Because of the work involved, this fee is non-refundable and cannot be waived. If you have any questions during the process or as you complete the application, please contact us. We try to reply within 2 business days (usually less).
If you have not yet looked at who we are and what we do, please review that information.
New families are strongly encouraged to tour the school prior to completing an application, but it is not required.
Apply Now
Please note the following items will be needed:
Complete student information
Pastoral Reference for your family from a pastor or leader in your home church (form will be emailed from us)
Copies of most recent report cards & standardized test scores
Consent form to request records after enrollment
Picture of each applicant
Application fee ($100 per student)
---
Once you have submitted your application, we will contact you via email to schedule student testing and a parents' interview.
This is followed by acceptance, contract, and enrollment.
We would love to help you in any step of the process and you can submit paperwork via mail, email, fax, or drop off.
Click here to contact us regarding any questions you may have.
Admissions Documents