Phil-Mont has had years of success in partnering with Home-school families.
Since Phil-Mont's founding over 73 years ago, it has been our goal to offer an excellent academic education within a consistent, reformed, Christian world-and-life view. We stress quality child development and rigorous academics at the elementary, middle and upper school levels. We also believe strongly in assisting parents who home-school by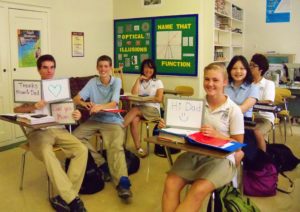 offering their children a la carte programs at Phil-Mont.
We are able to partner with families for students in grades 6-12 for any class family would like to take.
The fee structure for most academic courses is 1/7 the full-time cost per class taken ($2,111 for High School, and $1,864 for Middle School)
However, multi-class discounts are available.
Children enrolled in two or more courses in grades 6-8 or three or more in grades 9-11 may participate in Phil-Mont's athletics. Due to PIAA regulations, students in 12th grade must be enrolled as full time students to participate.
Children enrolled in two or more courses may participate in select Fine Arts Programs & Co-Curricular Activities.
Check out all the benefits from joining Phil-Mont as a part-time or full-time student
Phil-Mont's application process is the same for full time or part time students. Please see the application process to get started, or contact the admissions office with your questions.
Phil-Mont always invites local home-school families to attend our drama dept's Matinee Performances. These matinees typically happen on the Wednesdays of a performance week. Sign up to get information as soon as it is available regarding our invitations for Home-schoolers: