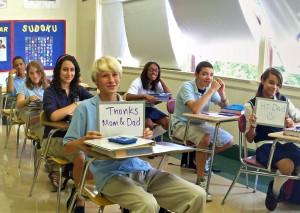 Thank you for looking into Phil-Mont Christian Academy as an educational option for your children. We want to talk to you about the school, about your families needs and about ways in which we can partner to help your children prepare for Christian living and thinking in a non-Christian world.
We now post our price range based on our Variable Tuition program. Please check it out and then give us a call to schedule a visit to the school – 215.233.0782 Ext. 408 or you can contact us here.
Phil-Mont has a very diverse student body. Our school represents different denominations, races, economic statuses and political viewpoints. We seek to keep this diversity because it helps us interact with others who don't come from the same background. It is one of the many ways in which our school is unique and special.
If you are still considering, be sure to watch some of what we do on our YouTube channel
We look forward to hearing from you and meeting you.