Mrs. Autumn Ruff is Phil-Mont's Vocal Music Teacher. Autumn's musical capabilities include singing, playing piano, songwriting, teaching, arranging and directing. Autumn is a product of Cumberland Christian School in New Jersey and received her Bachelor's in General Music from Eastern University. She has been teaching general music since 2012 at the A. W. Brown Fellowship Leadership Academy in the Dallas, TX area. She has lead multiple choirs and praise team ensembles and has served as Minister of Music at churches in Pennsylvania and New Jersey. Autumn, her husband Kevin, and their two children live in Philadelphia.
Mrs. Melinda Krpata is Phil-Mont's Instrumental music Teacher. graduated from Susquehanna University with a degree in Music Education and is currently pursuing a Masters in Worship Studies from Liberty University. Melinda directs both the Middle and High School Bands and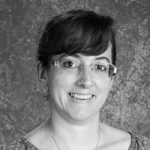 gives individual band lessons for students in grades 4-12. works with the chapel leadership team and chapel music team.  has a four boys one of which a recent graduate of Phil-Mont. The other three boys are currently at Phil-Mont in the high and elementary schools, Her husband Andy is an ordained elder in the United Methodist Church and is currently serving a church in Bethlehem , PA. He also teaches low brass lessons at Phil-Mont.

Elementary Music
Music K – 5 is an exciting mix of singing, making music with rhythm instruments, playing hand chimes and drums, music appreciation, theory and performance. Folk songs, multicultural music, scripture songs and historic hymns are used to promote skill in and enjoyment of many forms of music. Each class presents a musical drama at some time during the year. Study of a band instrument may be undertaken in fourth and fifth grades and an extracurricular choir is also available for third, fourth and fifth grades.
Middle School Music
Middle School Music has a variety of studies.
– Sixth grade learns about the exciting and diverse music of the Twentieth Century.
– Seventh grade studies music from various world cultures.
– Eighth grade learns about Western Music from the Middle Ages to the Twentieth Century.
There is an elective band and choir at this level as well.
High School Music 
Students may elect to study music in the High School by joining the choir or the band. In choir, the students prepare music of various eras, genres, styles and cultures for concerts and festivals as well as learn about the progress of music from the Middle Ages to the present.
The study of sight singing and music theory encourages music literacy, and healthy vocal technique is taught and practiced. Band students study and perform in small ensembles as well as the larger group. Improved technique and proficiency are evidences of excellent training and persistent practice.