Educational Options: The Topic We'd Rather Avoid
Donald Beebe, Head of School & Louis Prontnicki, Board President
The question of educational choice—homeschool, public school, charter school or Christian school—is a topic that is too hot for many pastors to handle. It can divide believers and cause people to feel abandoned or betrayed. Bloggers have launched attacks and counterattacks over this controversial issue, and all the different supporters have their own stories of success for their children. Many Christian leaders and parents simply avoid speaking about schooling options, or avoid making polarizing statements about it, so that everyone can continue doing what is right in their own eyes. But for the sake of our children and for the greater glory of God, isn't it time we bring this matter out of the closet and ask ourselves, "What does God have to say about how we educate our children?" Personal experiences (your own or your children's), your child's educational needs, supporting quotes from important Christian leaders, and a host of financial, social, and missional reasons all may be factors in our how we choose to educate our children, but the bottom line has to be "What sayeth the Lord?" We encourage Christian leaders and congregations to debate this issue, with grace, thoughtfulness, listening ears, willing minds, and affirming fellowship, so that each one of us can say with clarity and conviction: "This is what I believe the Word of God says about this matter, and that's why I am stepping out in faith this way."

So let's look at two of those key passages of scripture, beginning with Deuteronomy 6:4–9.
Hear, O Israel: The Lord our God, the Lord is one. You shall love the Lord your God with all your heart and with all your soul and with all your might. And these words that I command you today shall be on your heart. You shall teach them diligently to your children, and shall talk of them when you sit in your house, and when you walk by the way, and when you lie down, and when you rise. You shall bind them as a sign on your hand, and they shall be as frontlets between your eyes. You shall write them on the doorposts of your house and on your gates. (ESV)
Here we see that believing parents are commanded to inculcate the Lord's words into their children. We are diligently and persistently to teach and pass on the Lord's teachings to our sons and daughters. This is to be done in the home and outside of the home, so that every conversation and every setting becomes an opportunity for pointing children to the wonders of God's wisdom and God's ways. Rev. Brian Schwertley, in his paper, The Necessity of an Explicitly Christian Education, writes that "Scripture … requires the true Christian faith to be integrated into every area of life. Every subject under the sun … must be taught from a distinctly Christian perspective. Deuteronomy tells fathers that every part of every day and in every place there must be a discussion of the LORD and His word. If God requires theological discussion at home, outside in the garden or park, in the supermarket, in the car or even at the ball park, then certainly He requires a discussion of God and His ways during the many hours of education at school." He goes on to say that "God's Word simply assumes that there are no areas of life that are neutral or purely secular. According to Deuteronomy 6, the purpose and goal of education is love and obedience to God. The parents are not merely training children to make money but to be faithful to the covenant. The central command of Scripture is to love God with the whole heart. That is the chief reason why theology is to permeate all other subjects … [so] how can public schools promote the greatest commandment when they purposely keep God away from children's minds?" In view of this, we must ask ourselves: "What is the best way to obey this principle today? Which educational option will provide the maximum amount of impressing God's Word upon the hearts and minds of my children?" Don't settle for a minimum amount of inculcating God's truth into your children's impressionable minds and hearts; go for the maximum amount!
The other important passage is Ephesians 6:4.
Fathers, do not provoke your children to anger, but bring them up in the discipline and instruction of the Lord.
Fathers (and mothers) have the primary responsibility to model and to teach godly faith and behavior to their children. The Greek word for "discipline" has the idea of training by discipline and correction, for the expressed purpose of learning obedience in the ways of the Lord. The word is used eight times in Hebrews 12:5–11, as it describes how the Lord trains us. This method of training includes love as the motivation; it uses rebuking, correcting, and hardships as some of its methods; and it is all done for the purpose of growing in God's holiness, that we might obey God in faith. The Greek word for "instruction" literally means "to put into the mind," and this translates into God charging parents to impress God's Word into their children through a comprehensive strategy of verbal instruction in the Scriptures, so that their memory banks and thought patterns are infused and implanted with how God thinks. So again, we must ask ourselves: "What is the best way to carry out Eph. 6:4 today? How can parents get the maximum amount of God's words and God's ways into their children's minds and hearts? What is the best setting for creating the kind of loving discipline and nurturing instruction for our children which God uses with us?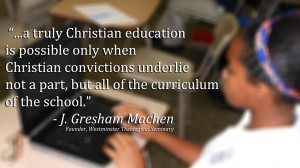 And if parents delegate any part of this responsibility, which kind of teachers and what type of educational setting would best accomplish this duty?" These are the kinds of questions parents must ask—and answer—before deciding where to send their sons and daughters to school. Consider the words of J. Gresham Machen, the founder of Westminster Theological Seminary: "A Christian boy or girl can learn mathematics, for example, from a teacher who is not a Christian; and truth is truth however learned. But while truth is truth however learned, the bearings of truth, the meaning of truth, the purpose of truth, even in the sphere of mathematics, seem entirely different to the Christian from that which they seem to the non-Christian; and that is why a truly Christian education is possible only when Christian convictions underlie not a part, but all of the curriculum of the school. True learning and true piety go hand in hand, and Christianity embraces the whole of life—those are great central convictions that underlie the Christian School."
As the head of school and the board president, we would like to hear from you and engage with you on this crucial topic. We will be providing further thoughts in upcoming Signet issues, and on Phil-Mont's website.