Phil-Mont's annual homecoming is scheduled for Tuesday, December 20th.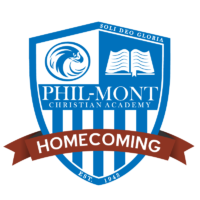 All of the Phil-Mont family is invited to join us for this fantastic homecoming event as we celebrate our current and former students with lots of basketball and a large crowd. Fans of all ages will be there to enjoy the night.
Basketball games (free admission to these events):
Boys' JV at 4
Boys' Varsity at 5:30
Girls' Varsity at 7
Alumni Round Robin Game at 8:30 (immediately following the girls' game)
Reception for Alumni:
Refreshments (Gym Balcony) at 5:30, Gift giveaway: Phil-Mont knit beanies. Alumni group photo at halftime of boys' varsity game.