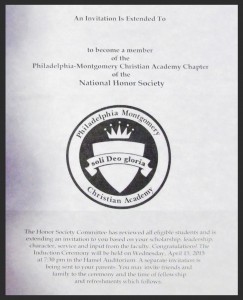 Phil-Mont recently sent out letters to 20 different juniors and seniors inviting them to join Phil-Mont's chapter of the National Honor Society.
The induction ceremony will take place in Phil-Mont's Hamel auditorium on Wednesday, April 15th at 7:30pm.
Phil-Mont has a long standing tradition of excellence and we encourage our students to strive for their best, to glorify God. These students are being honored for their proven record of scholarship, leadership, character, Christ-centeredness, and service.
Congratulations!