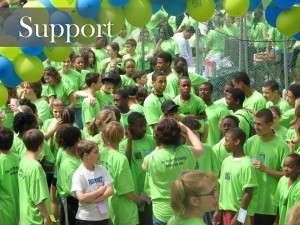 Giving is a blessing to both the receiver as well as the giver. Certainly it is easy to understand how a gift can be good for the recipient, but what may be less immediately obvious are the benefits to the giver.
1. The joy in knowing that we are honoring God by obeying Him.Everything good we have is a gift from God. He also calls us to return to Him a portion of what he has given us as a tithe or offering out of obedience and worship to Him, and as a service to the body of Christ.
2. The joy that comes from sharing our blessings with others. Who doesn't like to share a newly discovered restaurant with friends? Or a really funny story? As much we enjoy seeing their faces light up it pales in comparison to the joy we receive when we really and truly help someone in need. It is for such a reason that the Lord blesses us and allows us to exercise stewardship over His gifts and talents.
3. A realization of our active role in the great commission. Not all of us are called to be pastors or missionaries. Not all of us are eloquent and gifted at sharing the gospel with others. But we can all play an active role by supporting those who are gifted in such a way by supporting them in prayer and in substance bringing to bear the gifts that we have received.
Phil-Mont is not a church … it is a mission field. Children that come here come from Christian families. However we shouldn't take that to mean that the children have all received Jesus as their Savior … yet.
Your support enables us to teach children everything through the lens of scripture.
Your support bridges the gap between the tuition we charge and the actual cost to educate each child. In essence, all children here receive financial support. Your support.
Your support enables children to come to this school whose parents can't afford it.
Your support feeds ALL of the children, our children, at Phil-Mont spiritually, intellectually, athletically, and artistically every day.
Phil-Mont is also one of the top ranked schools in the Philadelphia region as noted in the October 2012 issue of Philadelphia Magazine list of the Top 100 Public Schools and  Guide to (45) Great Private Schools. One point can be derived from that article:  While a few schools may near our achievements in academics … they lack our Christian foundations, cost much more, or both.
While much of our support is from cash gifts, 85% of all planned gifts are "gifts anyone can afford" — gifts through a will, gifts of a retirement account, gifts of paid-up life insurance, and gifts of appreciated securities (actually, appreciated "anything" that can be appraised and sold).
Most of these are gifts that cost nothing during your lifetime.
Please contact Director of Operations, Al Chapman, 215.233.0782 x407, for more information.
Gifts to Phil-Mont are tax-deductible. Phil-Mont is a 501(c) (3) organization.